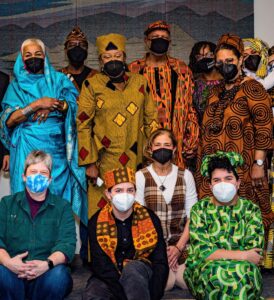 You can plan things out with such care, be organised and have details arranged just perfectly and then the Universe comes along and without warning throws you a lovely curve ball. Everyone is happy when life goes smoothly. I think it really says a lot about a person when you see how they handle life when it isn't going as planned.
Last Saturday's Faces Of Freedom event provided a great learning opportunity for several of us. I will get to the actual event, but the surrounding elements really spoke to me. Five people who were to be part of our program had to pull out at the last minute due to COVID-19-related issues, other health concerns and even a family death. Our thoughts and our hearts continue to be with each of you as you navigate what life has presented. It was a breath of fresh air to see Gloria Williamson and Sherry Edington take it in stride when four of their 12 models for the fashion show couldn't be there. Without fuss or apparent stress, they simply adjusted two hours before showtime and went to Plan B. Victor Foster had his adventure with indoor lighting issues. Like a true professional, he also went with the flow and ended up with a different setup that also worked perfectly. His demeanour was calm, easygoing and unflappable. Doug Wilks and Kathryn Burleigh, who were handling technical matters above my pay grade, were simply amazing. Unbeknownst to the rest of us, about midway during the actual live streaming event, some videos gave them a run for their money. The lack of stress that I, or anyone experienced at the microphone, was in large part because of how well they contained issues handled on their end, how well they held it together overall and how well they adapted on the fly to keep the program going.
With all of that said, I was thankful for a pleasant and flexible team of people to work with. It makes life so much easier and more enjoyable. The complete broadcast, with everything functioning beautifully as intended, will be re-posted online this week. What is always affirming is to receive feedback letting us know what your experience was like.
As a way to commence our shared afternoon, Roberta Miller referenced our event's theme for the year, which was one of "Bringing History and Community to Life." She made a strong connection to both with her opening remarks, "Since years ago when Ethel K. Mills encouraged and led her students to understand their history and culture, African American women have carried that 'reminding' lamp for our towns and county. Miss Selina Robinson taught so many so much, opened so many chapters of the past, and Miss Edith Darity continues to do so."
With Faces Of Freedom 2022 receiving a Community Outreach Endowment Fund from UUTC, Miller viewed that as that lamp being carried forward with "continued enlightening for both students and adults."
From RK Young, "I especially liked hearing the stories of when integration of our schools were happening, and what that felt like."
Joyce Pearsall shared, "Wonderful program, loved the cultural colors, loved the interviews. The '32 Seconds' is memorable and got me thinking. In addition to Nicola's powerful video, '32 Seconds' stands out to me. It got me to thinking, 'What would I do with 32 seconds?' The first thing that comes to mind is wishing my friend all the best, always. Maybe that would take just a few seconds, so I can then ask, 'You doin' alright?' Newly inspired, I plan on using my '32 Seconds' on a daily basis. If not to people, then to nature."
Rev. Bob Renjilian from the Unitarian Universalists of Transylvania County expressed, "It was an honor to host Faces of Freedom. I was impressed with how the living history videos, art and fabric creations fit together. The fashion show, with people of all ages, was impressive."
From Judith West, "The program was fantastic. I can't wait to hear more of the conversation about Rosenwald school. I certainly heard things today I've never heard before."
With an invitation to expand if she was willing, Judith further elaborated, "I thought I'd listened carefully to accounts of the integration process (in some forums focused mostly on the football team.) So, I was interested, surprised actually, to hear the new (to me) stories of inappropriate, even cruel, treatment from students and teachers in the early years of integration. I think it is likely that I, like many privileged folks, just wanted to hear the sanitised version of history. So, I am grateful for the honest telling of these stories. Why should I be surprised? These behaviours continue, don't they? I commit myself again to listen."
West's latter feedback refers to Vic Foster's capturing Janice Norman, Linda McCants, Altha Gordon and Sheila Mooney sharing their school experience with youth interviewer, Wendel "CJ" Darity Jr.
Finally, a quote from Phil Harris, the former Brevard police chief: "I watched the eighth edition of Faces Of Freedom 2022. I am inspired on a number of levels and am humbled to have been a part of the program. You have created something that will be archived and preserved for future generations."
This week, let me focus now on the fashion component of our showcase. We were blessed to have male and female models spanning the ages, all sporting what is known as Afrocentric attire. Afrocentric fashion is described as a style that mixes traditional African clothing, colors and designs with other styles. It is about embracing your heritage, your roots with a perfect avenue for self-expression. It allows you to really tap into who you are as an individual, sharing with others what makes you feel unique, special and beautiful. We certainly had a nice sampling last Saturday with bold African prints, bright colours with gorgeous heritage patterns.
In other news, we are halfway through February with our Poetry Contest from the Mary C. Jenkins Community Center underway. Remember that this is open to all ages, needs to relate to the African American experience no matter what your background is and, lastly, it needs to be your original work as a resident of Transylvania County.
Newsworthy items for submission for Rosenwald Community News are welcomed from community members, churches, clubs and groups. If you have an idea for a story or interview for me to capture, please let me know. Contact Nicola Karesh at nicolakaresh@gmail.com or call (828) 421-8615