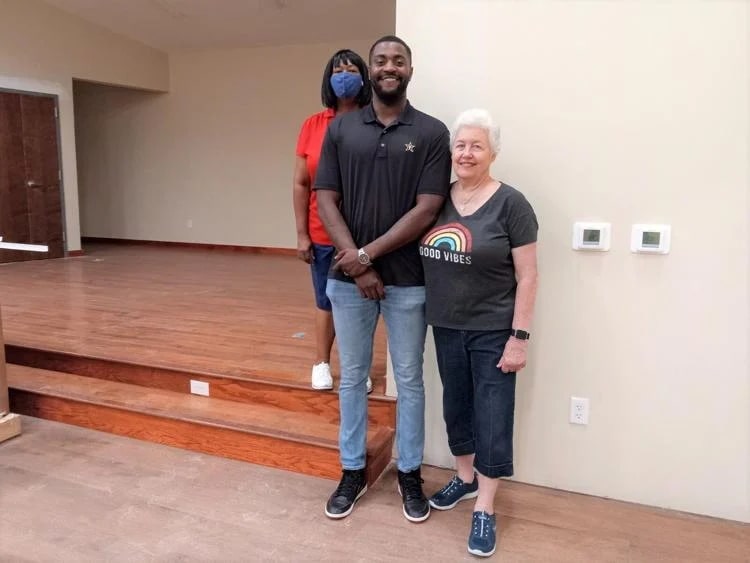 There's a particular spot by a lake that I like to sit after my morning walk.
There is a lovely fountain in the middle that creates ripples radiating outwards before the water eventually looks still.
Towards the edge where I am, at a first glance, everything looks quiet.
Sit there long enough, I begin to notice the occasional dragonflies flitting back and forth, birds flying overhead in the distance, with the water still appearing mostly tranquil.
On closer examination, I have discovered that there are lots of tiny, silver fish in the shallow waters with bigger fish a bit further out.
Once in a while, I have glimpsed a couple of ducks and a turtle or two poking their noses above the water.
My little nature scene made me think of the Mary C. Jenkins Community and Cultural Center.
I think of all the amazing activity that continues to happen whether you can easily see it or not.
I think of the people involved and the ripple effect that it will have on our community.
It all feels good. I drove by last week on my way to a meeting.
On the surface, I noted many new developments to the structure, the surrounding landscape and parking area.
I didn't notice anyone, but common sense would dictate that people have definitely been busy and working hard.
Progress and forward movement were clear. I was able to go inside later that afternoon to tour the space with another board member.
What a treat!
I can barely single any one thing out to describe. The overall experience was one of exceeding my expectations.
I was simply delighted and easily began to picture future happenings taking place when we open for real.
The beautiful wood floor and stage in the big room.
The rich paint colors.
The windows and glass doors making the space feel open and inviting.
The views out into the community from all sides. While I was there, we received an official looking document.
Greysen Nolen, our building contractor, explained that our exit sign and fire extinguisher was okayed along with a room capacity of 139 people.
I was not in town for the weekend, but it was heartwarming to hear from others who were also able to set foot in the building.
Starting with MCJCC board member Lewis Whiteside, Jr., "It was great to finally see the inside and see the 12 years of hard work paying off."
Susan Threlkel, also from our board, "A true miracle has happened at 221 Mills Ave! We are so close to finishing. Our new helper, Warren Robinson, will probably be back to put one more storage shelf together tomorrow. That is it! We are through with Phase 1 of the move-in."
For any would-be community volunteers, Susan let us know that there are opportunities ahead. "Never fear! There is a kitchen to prepare, pots and pans to wash, dishes, glasses, etc. to get from storage, and when we can truly occupy the space, moving all this stuff we did over the last few days into their permanent rooms."
We also received an enthusiastic update from board member, Elizabeth Pell, who shared several photos along with her experience, "Sharing good news. First, furniture is being assembled. Thank you, Susan, Fain, Lewis, Keavy, her husband, Lee, and son, Judah. I made a few chairs too!"
She added that we received five boxes of donated books from Ann Zelle for our Community Center library. Ann works at Transylvania County Library and also wanted us to know about this Thursday's showing of "Summer of Soul."
It will be at the Transylvania County Library at 6 p.m. The film is free and our community is invited to attend. Elizabeth continued, "The film documents concerts held in a Harlem park the same summer as Woodstock. It is rated PG-13 for several minor issues: some negative reference to drugs, a reference to the assassinations of King and the Kennedys. Additionally, Nina Simone (born in nearby Tryon) sings an anti-lynching song she was famous for "Mississippi goddamn."
Pell, who spoke to Ann Zelle from the Transylvania County Library, reported that Ann was encouraging everyone to see this film.
The latter thinks the history is important for young people to learn and encourages parents to bring children and discuss the issues with them. It features a lot of great music as well. Please spread the word.
Last Saturday, the Ethel K. Mills awards ceremony took place at Brevard High School.
We have the NAACP Education Committee to thank for this historic occasion.
Stay tuned as they will provide an official report with photos in the newspaper.
For now, here is what one of our local residents had to say. From Judith West, "What a treat it was to celebrate these pupils and teachers! Kudos to the NAACP for imagining this event to honor students, teachers and the formidable Mrs. Mills. I smile remembering the joy on the faces of these students and look forward to next year's celebration."
Lastly, Mr. Malford Jeter is letting community members know that he will be offering co-ed aerobics classes to be held at Bethel "A" Baptist church.
Once the community center space is available, he will offer classes there.
In addition, he is offering private, semi-private and open martial arts sessions.
You can reach him via Facebook or at (828) 230-4832.
Newsworthy items for submission for Rosenwald Community News are welcomed from community members, churches, clubs and groups.
If you have an idea for a story or interview for me to capture, please let me know at nicolakaresh@gmail.com or call (828) 421-8615.